Products List
Injection Section
Blowing Section
Accessories
Contact Us
ADD:
No.23 Rouji Rd, East Subdistrict, Huangyan, Tai Zhou City, Zhe Jiang Province, 318020, China
TEL:
0086-576-88807095/84015050
FAX:
0086-576-88807035/84015086
E-mail:
machinery@watongroup.com
WTM Series is the customer's best partner which needs low investment and low output. As the Blowing Molds' accuracy requirement is not high, the WTM Series can be used to produce a variety of PET containers, such as bottles for CSD (Carbonic Soft Drink), Mineral Water, Pesticide, Cosmetic, etc. The capacity of final bottles is 50ml to 20L, while they are widely used. Consequently, WTM Series is an excellent choice for the customers who change the bottle type frequently to meet the needs of the market.

Based on the different range of Blowing Molds, series of WTM Series includes four sub-types:


China Waton is a professional Manual Machine,manual blow molding machine manufacturer in China. We can produce Manual Machine,manual blow molding machine to your requirements.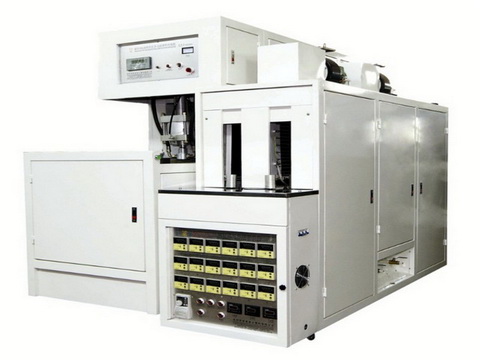 Model

WTM-2L

WTM-5L

WTM-20L

Capacity (b/h)

800~1000

300~400

50~120

Bottle

Volume (L)

2

5

20

Max. Diameter (mm)

100

170

280

Max. Height (mm)

350

350

510

Mold

Cavitation

2

1

1

Clamping Force (KN)

66.48

66.48

66.48

Opening Stroke (mm)

170

230

320

Mold Center Distance

140

140

/

Thickness (mm)

120~200

120~265

180~350

Max. Height*Width (mm)

350x390

340x480

480x600

Preform

Max. Neck Size (mm)

15~35

25~120

25~120

Max. Length (mm)

190

190

420

Heat Oven

Lamp No.

20

20

36

Adjust Zone

2

2

1

Power

Heating Power (KW)

23

23

36

General Power (KW)

25

25

37

Air Pressure

Blow Pressure (Mpa)

3.0~4.0

3.0~4.0

3.0~4.0

Drive Pressure (Mpa)

0.8~1.0

0.8~1.0

0.8~1.0

Machine Dimension

Blow Unit (mm)

1680x950x1980

1890x950x1980

2500x950x2050

Pre-heater (mm)

1650x700x1700

1650x700x1700

2300x600x2010

Machine Weight

Blow Unit (kg)

550

550

1160

Pre-heater (kg)

220

220

350